Space always seems to be a huge issue, but given a little space, great light and some easy innovation, a home studio is something you can create with what you have.
I have a small office with a floor to ceiling window and french doors… perfect for the hours I spend working on my client galleries. Not so perfect when I have to move almost everything to my husband's office when I have a client come in (and let me tell you how much he loves that!).
First, to figure out a back drop solution that takes up the least amount of space. Stands waste 2-3 feet of space, so I invested in a hanging system (after dragging my feet I was convinced by a friend who posted hers and how it changed her set up) and seamless paper. Hung from my wall, this backdrop system from Cowboy Studio allows me to have 3 backgrounds that I can change in a matter of minutes; the possibilities are endless. And, because I love props that hang and stylizing sessions, I bought a wire curtain hanger from IKEA. It comes with 24 hooks so I can hang any accessories from and once I'm done with one set up, I simply slide them over and am ready to go onto the next series of images. If you organize them ahead of time, it's simply a matter of sliding the next set up over and your session will go so much smoother.


My next project involved a solution for really dull and boring carpet. I plan on putting unfinished wood floors down over the holidays and stain them myself, but in the meantime, I needed a quick, easy, and very flexible solution. And friend and fellow photographer gave me her answer: stained boards laid together to look like wood. Brilliant! Totally easy to store when not in use and exactly what I was searching for. She was even genius enough to paint the other side white which gives you two floors in one! I can use this in my studio until I get the real deal, and then I'll still use this when I have sessions in my garage. I love that I can just pick it up and be done when the session ends.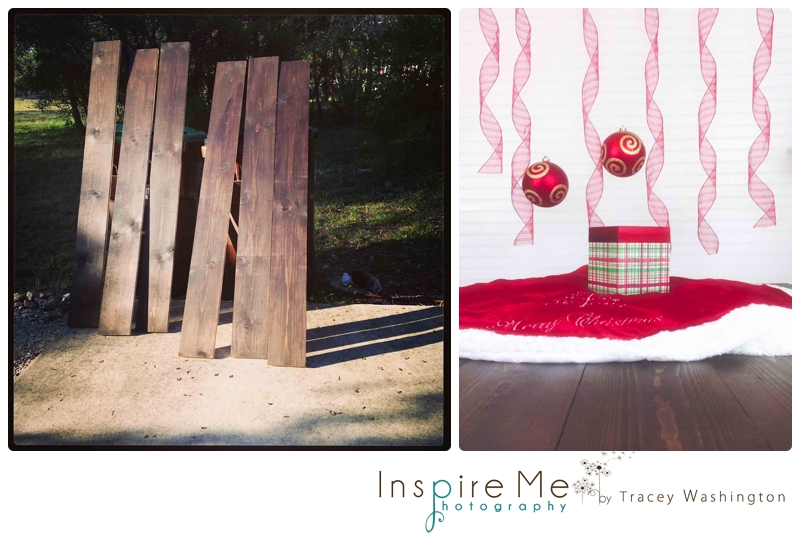 For the most part, my studio is coming together. I have a large 4X10′ white wainscoting panel I bought at Lowe's that I Velcroed to the wall so it won't fall and stands flush. They have tile and brick options too. The best part about the Velcro is that I can easily take it off the wall and use it as flooring if I wanted. I think Velcro has become my version of duct tape… I use it for everything from backdrops to holding the cutlery organized in place in the drawer. I never seem to have enough of it around the house for all the uses and projects I find.
My business is growing and I have plans to build a separate studio on our property that won't be limited to a 10X12 room. And when that happens, I plan to use all of these ideas just on a bigger scale. Easy, inexpensive and space-saving…it's just what I've been looking for. … More tips and studio solutions to come as I slowly finish the studio. Can't wait to post a finished image once the new floors are in and the walls have been patched and painted. Stay tuned…